At The Drexelbrook, we love a great party and celebrating life's milestones. Our venue offers great spaces for parties of all sizes.  All of our spaces are non-smoking and ADA compliant. You will receive a full service experience for venue, food, beverages, and more. No outside food or beverages allowed on premise.
From intimate celebrations to over-the-top mitzvahs and proms, we have the perfect room for all of your Drexel Hill partes!
While planning your party, you will have access to an experienced planner as well as a network of resources to ensure it is amazing.
The Drexelbrook has experience in all types of celebrations. Some of our most popular are listed below. Click each for more information.
Holiday Parties
Whether it's a small, intimate gathering or a large party, the Drexelbrook works as holiday party venue that can accommodate events of all sizes. Our variety of spaces allow you to reimagine your next party. Our experienced event specialists will craft a custom menu that's perfect for your organization. Dates in November and December book quickly, so make sure to  contact a Drexelbrook Event Specialist today to discuss your party!
Baby Showers
Whether it's a small intimate gathering or a large party, Drexelbrook features a collection of spaces that can accommodate baby showers of all sizes.
Bridal Showers
Celebrate the bride-to-be with a bridal shower at The Drexelbrook!
Whether it's a small intimate gathering or a large party, Drexelbrook features a collection of spaces that can accommodate parties of all sizes.
Galas and Fundraisers
Whether you are fundraising or honoring a distinguished member of your business or association, Drexelbrook believes in partnering with you and your cause to produce a memorable night for everyone.
At Drexelbrook, you will enjoy expert planning advice, a stunning ambiance, delicious food, signature cocktails, and a service level that is polite, professional and interactive.
Flexible floor plans, easy load-in, a large registration area, heavy power capacity, Wi-Fi, and built-in screens, combined with exceptional outdoor space, make Drexelbrook an easy choice. View technology capabilities and event our facility chart here. 
Graduation Parties
Whether it's grade school, high school, college, or otherwise, a party at Drexelbrook is the perfect way to celebrate!
Featuring spaces for 50 or 500+, Drexelbrook can accommodate parties of all sizes. Served lunches and dinners, as well as buffets and "interactive stations" are available for adults, kids, and teens.
Mitzvahs
At The Drexelbrook we understand how important this milestone is to you, your child, and your family.  We have developed a "Mitzvah Experience" that will allow you to create memories that will last a lifetime.
We offer a cocktail room for the adults and a separate area for the teenagers.  Hospitality suites are available for the family members to freshen up when needed.
Served dinners as well as buffets and interactive stations are available for both adults and teenagers.  Our "Mitzvah Experience" is specifically designed for a Mitzvah Celebration, with culinary selections that reflect the beliefs behind the celebration.
Supervised Kosher is available through our Business Partner, Greenwald Caterers in Lakewood, NJ.
Click for a full list of Preferred Service Providers for Mitzvah Celebrations.
Proms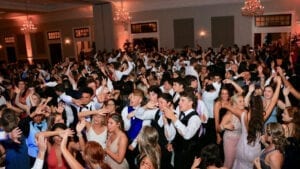 The Drexelbrook has established itself as a preferred location to host high school's most anticipated night of the year.
With beautifully appointed rooms for smaller, more specialized schools, as well as a Grand Ballroom to host over 1100 guests, our facilities are suited to host proms of all shapes and sizes.
You will have complete access to our expertise and a network of resources that provide exciting lighting shows, logo pieces, ice carvings and full production entertainment.
We offer class representatives a "Spend the Day at Drexelbrook" experience to determine room selection, food and beverage options, and theme decor packages.
Our dance floors are some of the largest in the area.  Many of our school representatives comment on the beauty and the elegance of the Grand Ballroom, our dance floor, the excellent food, and our professional service.
Drexelbrook employs a full-time security force that works hand-in-hand with your chaperones and security team to ensure an enjoyable, safe, and incident-free occasion.